Agnes of God by John Pielmeier, directed by Mark Newman and Stuart Evans. An Against the Grain production.
19/10/23 - 21/10/23
Time: Thu 19, Fri 20 19.30; Sat 21 Oct 14.30 & 19.30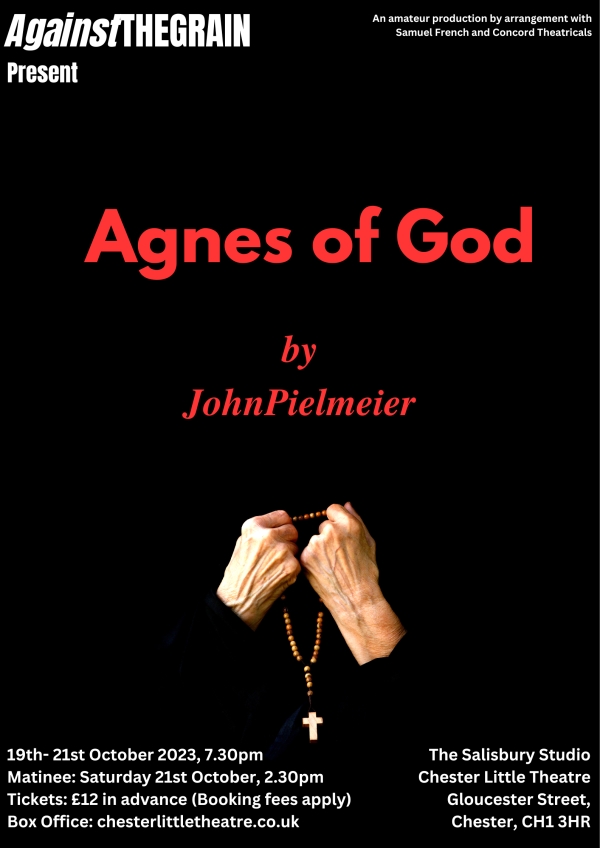 Following their productions of Deathtrap and The Birthday Party, we welcome back visiting company Against The Grain as they present psychological whodunnit Agnes of God by John Pielmeier.
A novice nun gives birth in the solitude of her convent cell. She claims to have no recollection of the conception or birth and the new-born is found dead in the wastepaper basket by her bed. It is the duty of the court's psychologist to determine the nun's fitness to stand trial and find answers. Who is the father? Who knew about the pregnancy? And, most importantly, who murdered the infant?
Agnes of God presents us with three very different women engaged in a battle of wills to find the truth, but, as secrets are uncovered, the truth threatens to alter all their lives irrevocably.
This amateur production of Agnes of God is presented by arrangement with Samuel French and Concord Theatricals.
Thursday 19th, Friday 20th at 7.30pm, Saturday 21st October at 2.30pm & 7.30pm.