Don't miss The Miser!
05/12/18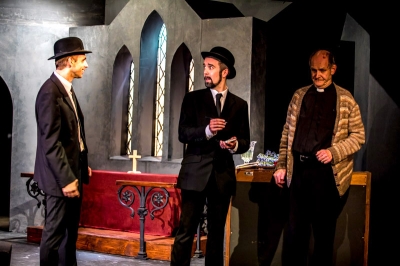 Some of our favourite actors are returning to The Little Theatre stage with our next Auditorium production: Moliere's fast and furious comedy, The Miser, updated and translated for the modern stage by Freyda Thomas.
Playing the eponymous role will be John Turner, seen here (right) as the Reverend Langton in Moonshine. With him, far left, is Rob Quinn who will be playing Valere in The Miser. Below we see Tony Kemp in 18th century costume as the confused father in She Stoops to Conquer, taking advice from his friend played by Peter Speirs. Tony is returning to acting after a break. On the sofa we see Ruth Sutton from Confusions playing the mother who knows what's best for us all, along with Jac Wardle understandably irritated. All can be seen in The Miser.
Book your tickets now!
Interestingly, in the picture from Moonshine, we see Ally Goodman in the role of the undertaker, McKeever. Ally will soon be performing in Tom Stoppard's brilliant murder mystery parody, The Real Inspector Hound, our next Studio production. Watch this space!