First in the lift!
16/10/18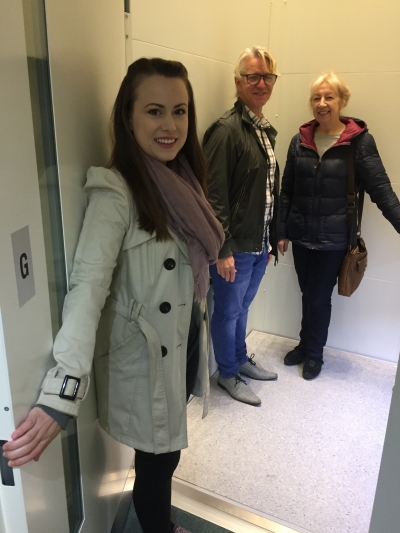 Some of our patrons who come to Chester Little Theatre regularly will have noticed a lot of building work going on. It is now finished and we are delighted to unveil the results!
The major improvement is the installation of a lift, so that our audience members who have difficulty with stairs will be able to get to the Auditorium on the first floor in comfort. On the first floor, you will notice a wider entrance to the Auditorium: in order to install the lift, we have a new corridor which will accommodate wheelchairs. This also means that next Summer, our stage can be widened, giving us wing space for the first time!
Seen here on their way to rehearsal are some actors from our November production of Uncle Vanya by Anton Chekhov – our next play. From left to right: Kathryn Girvan, who will be playing Sonya, Chris Mapp playing Telegin and Vanda Hargen playing Marina.
Our patrons need to be aware that the lift is particularly intended for those who find stairs difficult and for wheel chair users. The lift holds a maximum of six people at a time and moves at a very stately pace, so we ask patrons who are able to use the staircase to the Auditorium on the first floor.
Our Theatre Bar has also been enlarged, refurbished and redecorated and is looking very welcoming. Ray Bengree, our Bar Manager, is looking forward to serving you there.
Of course, none of this would have been possible without the generous legacy left to us by Liz Stafford, a Theatre member for many years, who was determined that the Theatre should at last have a lift as well as other improvements. Thank you, Liz!
Uncle Vanya, directed by Jane Barth, will open on Saturday 10 November at 7.30 pm, then from Monday 12 to Saturday 17 November. Tickets are £10 and £8 concessions on first Saturday, Monday and Tuesday evenings. You can book online here or telephone TicketSource 033 666 3366. Booking charges apply.